Have You Considered A Partial or Full Mouth Restoration?
People choose to restore their smile to assist with a variety of challenges including those outlined below. If you have any of these common issues and would like to explore enhancing your smile, it would be Dr. Andersen's pleasure to help you!
Don't Wait For Any Longer
Enhance the level of comfort and confidence you have in your smile at work, at home and with friends.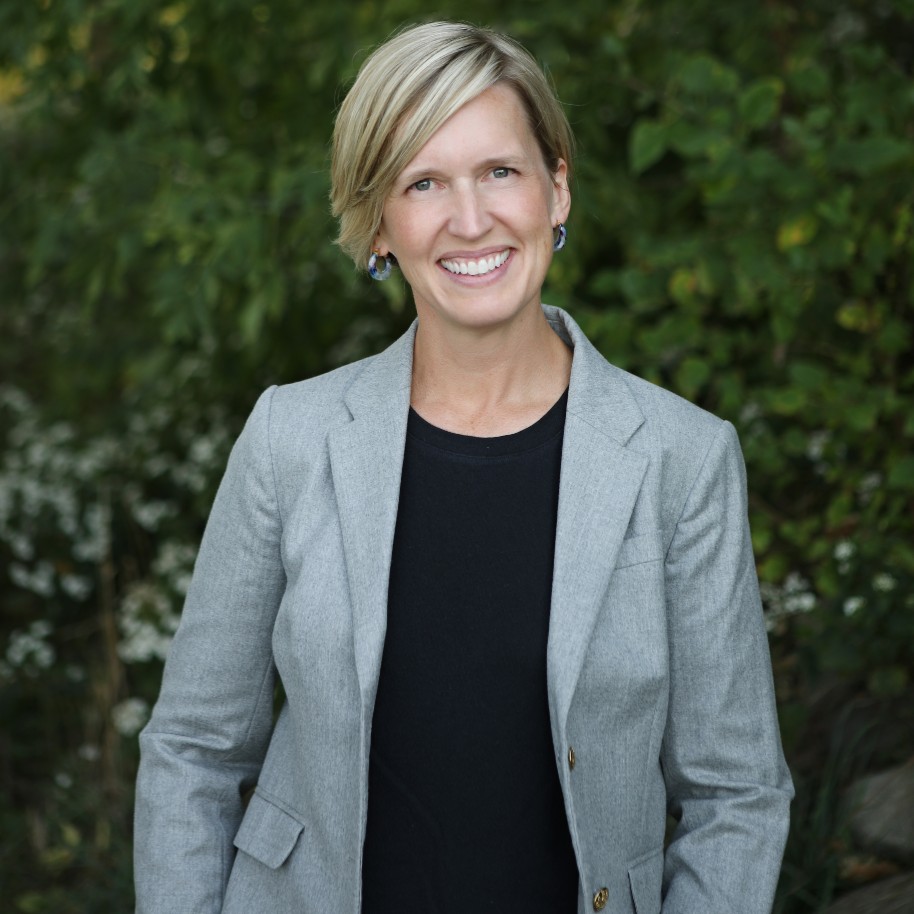 Warm, friendly, compassionate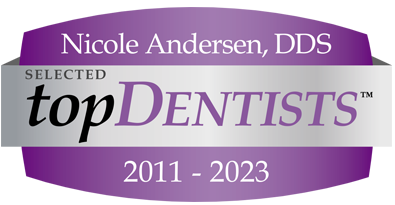 Restore Your Smile and Improve Your Quality of Life with a Partial or Full-Mouth Restoration
Dr. Nicole Andersen's passion is for changing someone's life by making them comfortable and confident with one of their most important assets—a beautiful smile. A Full-Mouth Restoration can return decayed, cracked or damaged teeth to full health and function and allow you to smile again with confidence.
Dr. Andersen provides comprehensive dental services and has the skills necessary to make your full-mouth restoration a success. She is experienced in handling extensive cases and partners with one of the country's best aesthetic dental labs to make sure the work you have done is not only strong and durable, but also looks aesthetic and natural.
Dr. Andersen has completed hundreds of hours of continuing education in full-mouth treatment with specialized, hands on training in the various fields of dental care, including Cosmetic Dentistry, with some of the world's most qualified professors and instructors. You can learn more about Dr. Andersen's training as an expert dentist by visiting her biography.
Dr. Andersen takes the time to completely understand the patient's vision, goals and dreams for their smile. She understands that aesthetics are an important part of dental work and she loves helping patients look their best. She will take great care to ensure that you have a beautiful smile that is natural-looking and long-lasting.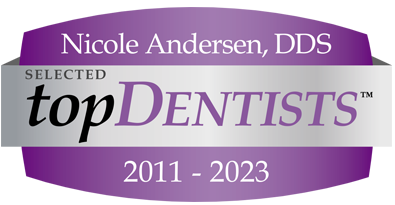 Partial and Full Mouth Restoration
Your smile is unique, which means we will create a customized treatment plan designed around your vision and goals for your new smile. The process entails three easy steps.
Complimentary Restoration Consultation
Take advantage of our Complimentary Full-Mouth Restoration Consultation to meet Dr. Andersen and begin your dental restoration journey. 
Understanding You and Your Goals
Time is created for Dr. Andersen to perform a comprehensive exam of your overall oral health. Dr. Andersen will review your historical treatment records and X-rays. She will also take photographs that will assist in the creation of dental models of your teeth. Dr. Andersen will then listen to your needs, wishes and goals regarding what you hope to see and experience when your smile is complete.
Review Your Individualized Treatment Plan
Dr. Andersen will combine your dental history and personal goals to formulate an individualized treatment plan. The plan brings together suggestions to foster your overall oral health and aesthetic preferences, leading to increased levels of confidence in your new smile.
Partial or Full-Mouth Restoration Preparation
After you approve the final design for your smile Dr. Andersen will complete the tooth preparation.
Partial or Full-Mouth Restoration Completion
Your final few visits will include Dr. Andersen fitting and bonding your veneers or crowns to your teeth, along with any final gum sculpting. Steps 3 and 4 are comfortable with a range of spa-like amenities for your enjoyment and ease. The final outcome is a beautiful, healthy smile for years to come.
We have felixble payment options.
COMPLIMENTARY RESTORATION CONSULTATION
We provide complimentary consultations, where you have the opportunity to meet Dr. Andersen. During the complimentary consultation, she will recommend cosmetic dental approaches designed to help you achieve your vision and goals. Dr. Andersen will then provide an outline of the next steps in the process.
Once your treatment plan is complete, our patient care coordinators will work with you to identify any dental insurance coverage you may have for the procedures. We will also review any discounts available through the Artisan Dental Health Plan or payment the day of services. Lastly, we work closely with affiliated third-party financial partners, CareCredit and LendingClub, to create affordable payment options.

We welcome the opportunity to partner with you in realizing your smile restoration goals.
Call or email to schedule your appointment with Dr. Andersen and review your smile design goals.
Full-Mouth Rehabilitation Procedures
A Full-Mouth Rehabilitation can consist of one or more procedures. Damaged or decayed teeth can be restored with crowns or repaired with root canals and missing teeth can be replaced with dental implants, bridges or partial dentures. Treatment may also involve veneers or dental bonding to improve the color and shape of existing teeth. Whatever procedure you need, Dr. Andersen can provide it. Your new smile can include: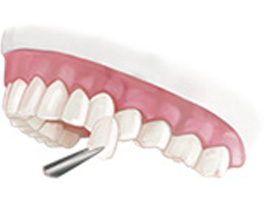 Porcelain Veneers
Porcelain Veneers are thin porcelain coverings that are bonded to the front of your teeth to change their shape, size and/or color. Porcelain Veneers can usually be completed in two visits and can make a dramatic change to your smile.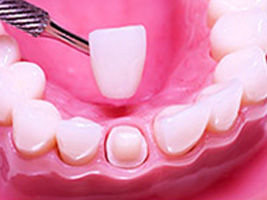 Dental Crowns
A dental crown is used when the tooth needs cosmetic changes but is also in need of structural repair. A crown can also be used on top of an implant post to replace a missing tooth.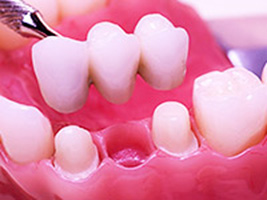 Dental Bridges
A dental bridge is a series of connected crowns that is used to replace one or more missing teeth. Although they have certain disadvantages compared to implants, bridges are a suitable option for replacing missing teeth in certain circumstances.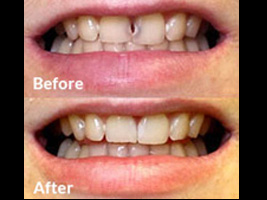 Dental Bonding
Dental bonding is a tooth-colored dental resin that can be used to correct flaws such as chips and minor cracks in a tooth. It can also be used to change the size, shape or color of your teeth, but is not as durable and long-lasting as veneers.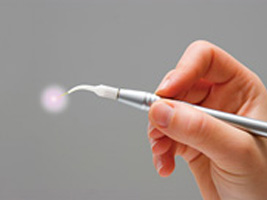 Laser Gum Sculpting for a Gummy Smile or Uneven Gum Line
Uneven gumlines and gums that are too large around your teeth can cause your smile to look unattractive and in some cases can affect your overall oral health. For most gum reshaping procedures the doctor uses a dental laser as a minimally-invasive way to sculpt the gum tissue.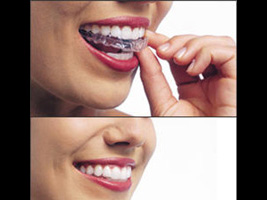 Invisalign & SureSmile® Teeth Straightening
Effective clear aligner treatment designed to fit your lifestyle. Clear aligners are designed to orchestrate each step of your smile transformation with precision.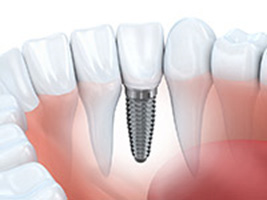 Dental Implants
Dental implants are considered the modern solution for replacing missing teeth. A titanium post is inserted into your jaw and topped by a crown which acts, looks and feels just like a natural tooth. We are usually able to provide all stages of your implant treatment in-house.